Ljubljana is the charming capital of Slovenia, surrounded by mountains and green landscapes, it is just 150 km from Zagreb, capital of Croatia. The city has about 280.000 inhabitants and the important river, Lublianica, divides the city center into two. On one side is the old and traditional part of the city and also the access to the castle; on the other is the political and commercial part oft he city. Right in the center is located the main square named after the national poet, France Prešeren, and there you will find also the main church dedicated to the Franciscan Order.
The architecture of the city can be considered a mixture of styles, there are Roman buildings, medieval architecture of the sixth century, Renaissance buildings of the sixteenth and a large Austrian influence. The famous medieval castle of Ljubljana is located on the hilltop in the center of town and scholars believe it has been built in the ninth century.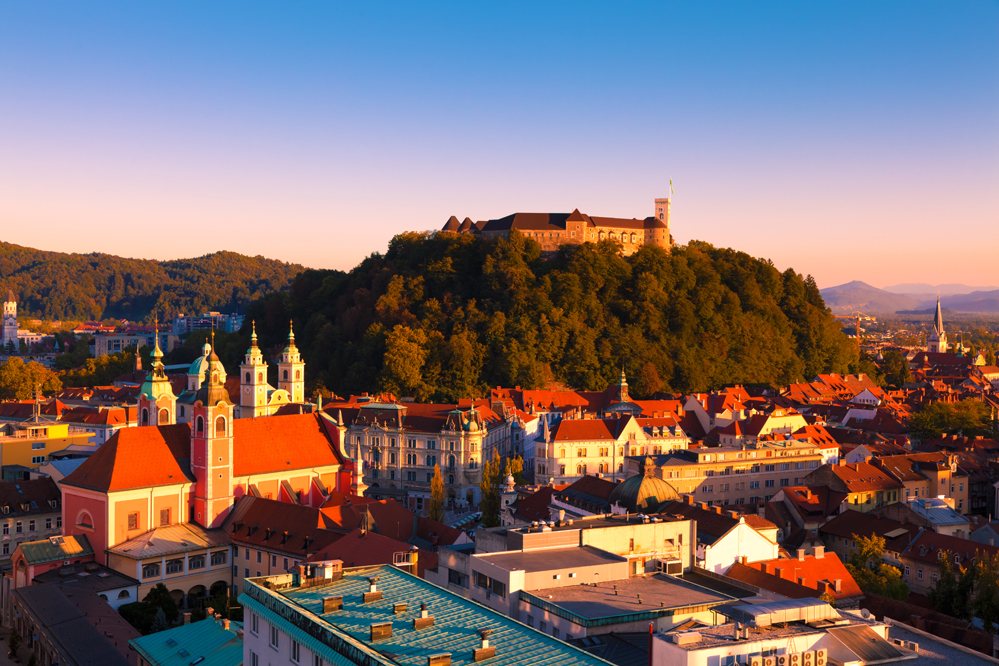 Ljubljana, capital of Slovenia is only 150 km from Zagreb, in Croatia.
Walking around the streets of the old center of Ljubljana is the best way to visit and fall in love with the city. Several local stores offer traditional products as salt, honey and crafts, and also a lot of options of delicious restaurants, bars and cafes make the city a super nice tourist location.
Be sure to cross the Triple Bridge, which connects the old with the new part of city and visit the Town Square, where is located the City Hall, a Baroque building of the fifteenth century.
Come visit the beautiful Ljubljana with us! In our suggestion  of tour you can visit in the same day the capital of Slovenia and the stunning town of Bled; or Ljubljana and the Postojna caves. For more information about this tour, check here.
Discover more about the city in the video below.