Ever heard of the famous Slovenian-Croatian duo 2Cellos? If you heard them, certainly you couldn't forget them, but if you never heard about them get ready, because everything you think you know about cellos will turn upside down. Still do not believe? Then take a look at the videos below and check out the opinion of Elton John on these phenomenal musicians.
The video mentioned by Elton John, Smooth Criminal, a Michael Jackson's song, has nearly 20 million views on Youtube. And to complete the compliment, Elton John said he hasn't seen anything so extraordinary since Jimi Hendrix! Such a compliment is not for everybody, right?
And it was not only with Elton John that the duo had the prestige of working. In the list of partnerships come many other renowned names like George Michael, Zucchero, Steve Vai, Lang Lang, Red Hot Chili Peppers, Queens of the Stone Age, Andrea Bocelli, Zubin Mehta, T Bone Burnett, Bob Ezrin, Humberto Gatica and James Newton Howard.
Explaining it better, the 2Cellos is formed by the musicians Luka Šulić and Stjepan Hauser Slovenian-Croatian cellists, that begun in 2011 and play what they call Cello rock.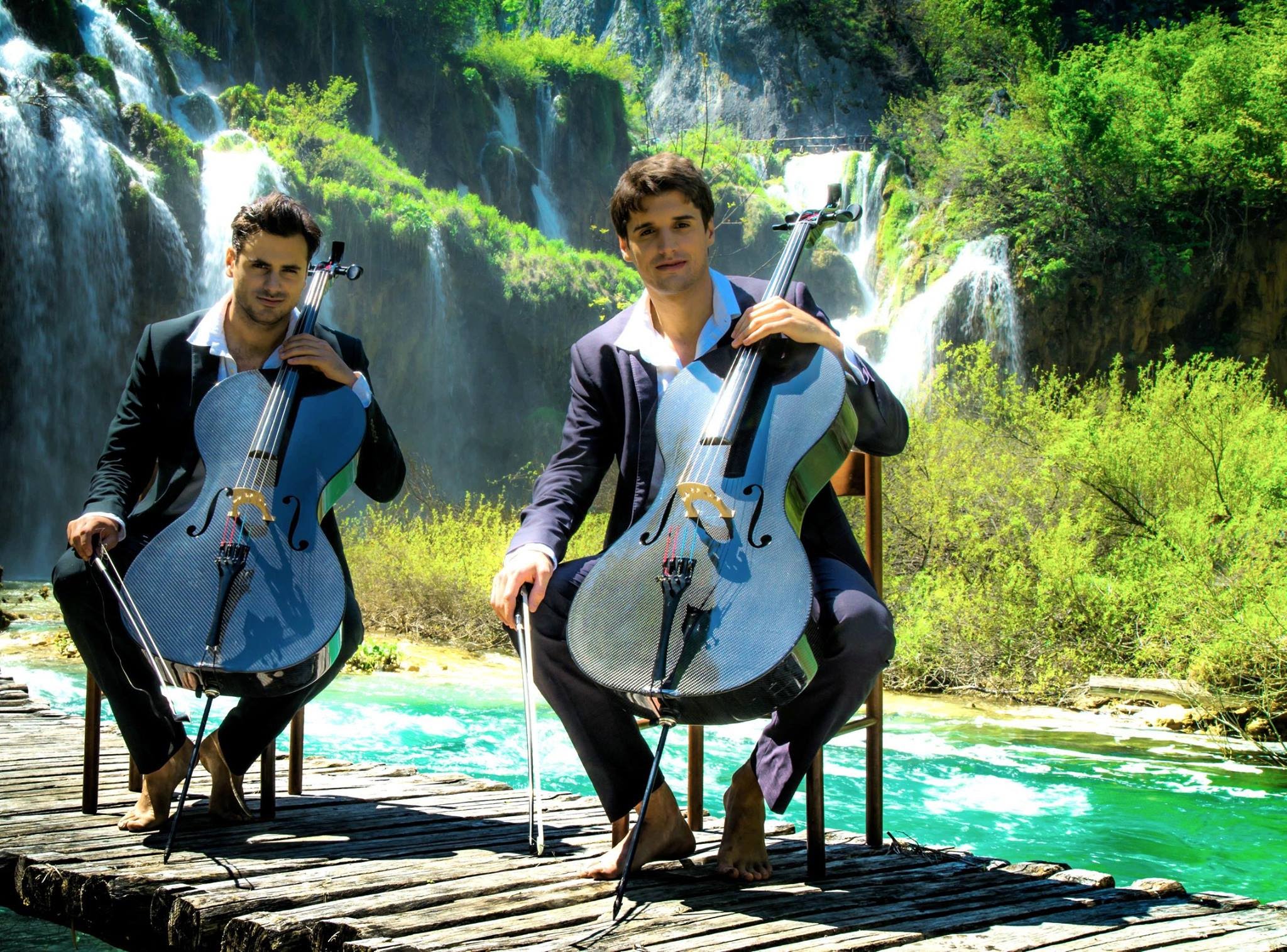 Luka Šulić and Stjepan Hauser from 2Cellos, in the Plitvice Lakes National Park.
Photo: croatiatravelreport.com
The duo's style surpassed the barriers between musical genres; they play from classical music to soundtracks and pop rock. The duo has traveled all over the world making shows and fulfilling stadiums on US, Japan, South America, Australia and Europe.
And besides having stamped the passport on several continents the duo also has presented in very impressive events. They played in the prestigious events as the Queen's Diamond Jubilee in the UK, The Ford's Theater Annual Gala with President Obama, the Emmys in Los Angeles, Celebrity Fight Night Gala in Florence, Starkey Hearing Foundation Gala, and FIFA's Ballon D'Or in Switzerland.
Their latest album, Celloverse, was launched in January 2015 and debuted at No. 1 on the classical and crossover charts worldwide. One of the most impressive videos of the duo that also shows the stunning beauty of Croatia is the video I Will Wait, recorded in the Plitvice Lakes National Park, take a look, is breathtaking.

So, did you enjoyed finding out more about the musicians of Croatia and region? If you are interested in watching them live just take a look at their official site and prepare to see violoncello ropes flying through the air! When traveling with Kamauf Tours you will discover much more than historical curiosities and facts, we'll help you to understand life in the Balkans and build with you unforgettable memories. Contact us; we are waiting for you 😉